Are you looking for a YouTube Channel Art Template?
Do you want to make your own YouTube Channel Art?
If you've thought about creating your own YouTube Channel, part of your visitors experience is the first impression upon landing on your YouTube Channel. It's important to carry your branding throughout all social media platforms and be sure they are designed with all devices in mind (TV, Tablet, Smartphone, Desktop, etc.) Using this template will ensure your channel looks great and your important information such as logo and key design elements are perfectly visible on all devices.
I've created a simple template to assist you in designing your channel art according to YouTube's specific safe zones and dimensions.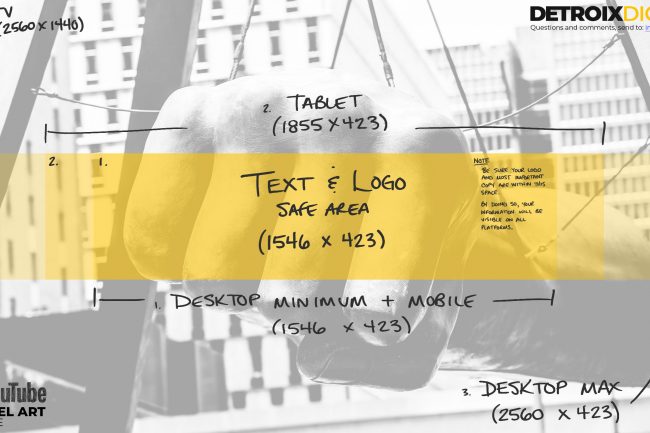 Download or "copy" the image above.
When using this template in Adobe Photoshop CC, it is recommended to adjust the opacity of the image to roughly 30% so that you can easily view your artwork while using the guides to check your arts visibility according to the particular device content safe zones.
In the end, you will export one single image in your preferred format (jpeg, png, gif, etc.) and upload the image to your YouTube Channel. Bam…done!
Questions? Email me at info@detroix.com.