Web pages created especially for a marketing or advertising are called landing pages. It's the page a visitor "lands" on after clicking on a link in an email or an advertisement from a website like Google, Bing, YouTube, Facebook, Instagram, or Twitter.
A Call-to-Action (CTA), such as subscribing to a newsletter, downloading a white paper, or completing a purchase, is the sole goal or emphasis of a landing page. Website pages, on the other hand, generally contain several objectives and promote exploration.
Because of their laser-like concentration, landing pages are the ideal approach to increase the conversion rates of your marketing initiatives and lower your cost per lead or transaction.
Small Michigan business landing pages
Small companies in Michigan can benefit greatly from landing pages since they can help you more effectively reach your target audience and produce more leads and sales. If you own a small company in Oakland County, for instance, you may make a landing page exclusively for customers looking for "landing page design in Oakland County." This landing page can emphasize your expertise in landing page design and provide a request for contact information in order to schedule a free consultation.
Additionally, you may utilize landing pages to advertise certain goods or services, as well as to provide exclusive discounts and promotions. A landing page for your summer sale, for instance, may be made by a small company owner in Wayne County. This landing page may include a list of all the discounted items you're selling, along with a coupon code that clients can use to save money.
So what role do landing pages play in your marketing funnel?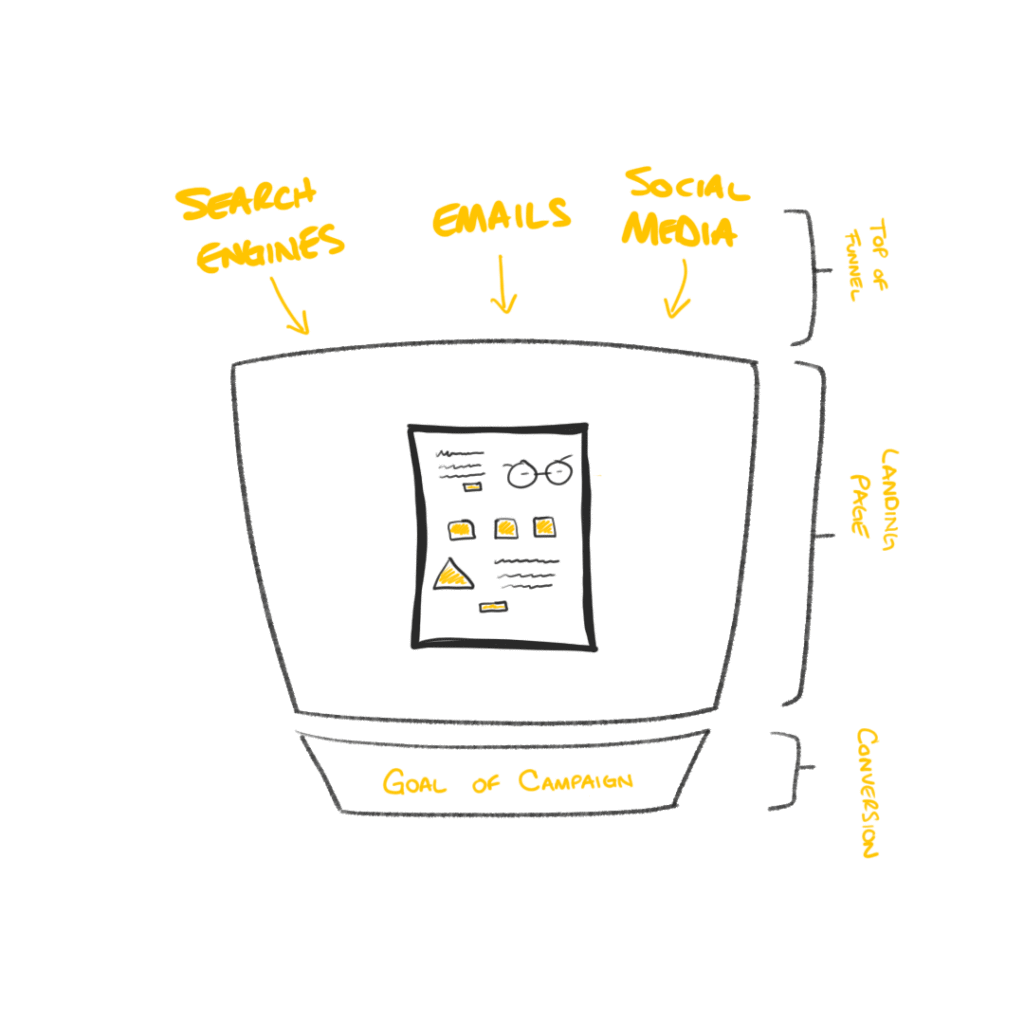 As you can see, there are three phases to a Landing Page.
Phase 1: Top of Funnel (where visitors begin their journey)
The Top of Funnel is when a prospect clicks a link in an advertisement, email, or another place on the internet.
Phase 2: Landing Page
This is the money-maker, so shake it! Your conversions depend on the quality of your sales pitch, presentation, and effectiveness of it's message.
Phase 3: Conversion
Providing your messaging and presentation were effective, this is where the visitor makes a purchase, sets an appointment, downloads a file, signs up or subscribes to a newsletter, or simply shares their information with you.
I'll examine the primary advantages of landing pages in this piece and respond to some frequently asked questions. I hope that by the end of this writeup, you'll share my enthusiasm for landing pages.
Allora….andiamo!
Landing Pages vs. Homepage / Website
Types of Landing Pages
The primary distinction between a landing page and a homepage (or the reason why landing pages convert so daggum well)
A landing page is really more focused, in contrast to a homepage, which includes a plethora of potential distractions — you could imagine these links to other parts of your website as holes in a boat. A landing page with fewer links converts better since there are less tempting clickables to divert visitors from the call to action. Really the only links that should be present should be anchor links. Because of this, seasoned marketers always direct traffic to a specific landing page.
Yes, websites are gorgeous. It establishes and promotes your brand, enables product exploration, and provides more details about the business and its core principles. A visitor may access anything from this point, including posting on message boards, reading press releases, reviewing the terms of service, and applying for jobs.
However, they might not really buy anything. And it is the key idea.
This customer's landing page has an entirely different function. Everything about it works hard to convert these visitors into consumers, especially when paired with attractive advertisements that highlight a particular deal. It is converting the traffic the brand already receives better. That is how effective landing pages are!
Are there different types of landing pages?
Depending on the particulars of the business and whether you're looking for leads, signups, or sales, you'll find a lot of diversity out there, but these are the primary sorts of Landing Pages you'll come across:
1.) Lead Gen Pages:
These are sometimes referred to as "lead generation pages," "lead capture pages," or popularly known within the real estate landscape as "squeeze pages"; and typically they feature a form as their call to action. The names and email addresses of visitors are virtually always collected using this form as lead information.
This kind of landing page is used by B2B marketers and businesses who offer expensive products to compile a list of potential clients. They occasionally provide something for free in return for contact information, such as an ebook or webinar. These sites can be used by e-commerce businesses to expand their mailing lists, advertise free delivery, or promote special offers.
Lead generation landing pages include, for instance:
Ebook landing pages: Prospects are frequently more than happy to provide their contact information if you offer a worthwhile educational resource (such as a research report or a how-to guide).
Landing pages for webinars: You may host a free webinar about a subject your customers are interested in learning more about (and use a landing page to gather registrations).
2.) Click-throughs:
Click-through pages are frequently used by e-commerce and SaaS (software-as-a-service) marketers to direct traffic to purchases or subscriptions. Typically, they include a straightforward button that visitors click to enter the checkout process (like the app store) or finish a purchase.
Clickthrough landing pages come in a variety of formats, such as:
Ecommerce: You may influence a user's choice to buy by dedicating an entire page to highlighting the features, advantages, and photos of your product.
Landing Pages for Signups: By registering for a free trial or membership with your service, you may entice consumers to start their adventure.
Sales Landing Pages: Sales landing pages are all about convincing visitors to buy something by addressing their specific concerns and emphasizing significant advantages.
Rather than spending ten's of thousands of dollars on a full website build, consider having an effective landing page developed! Are you ready to talk about your landing page? Send me a message.