Boulevard Carts is a custom golf cart builder, dealer, fabricator, and retailer located outside of the Metro Detroit Area. The golf cart, originally called, "The Golf Car", is said to originate from Texas / Arkansas. Mainly used for those with disabilities and didn't really collect momentum until the 50's. One of it's early innovators of the electric cart, we've come to know and love, was Merel Williams from California. This is where the big names we recognize today started – EZ Go, Club Car, and Yamaha. Fast forward to today, golf carts are not only a great way to commute to your neighbors pool party, but also great for camping, festivals, and other events. This trend, originating in the south is now spreading like wild fire in the north. This is where one of Michigan's heaviest hitters, Boulevard Carts steps up to bat.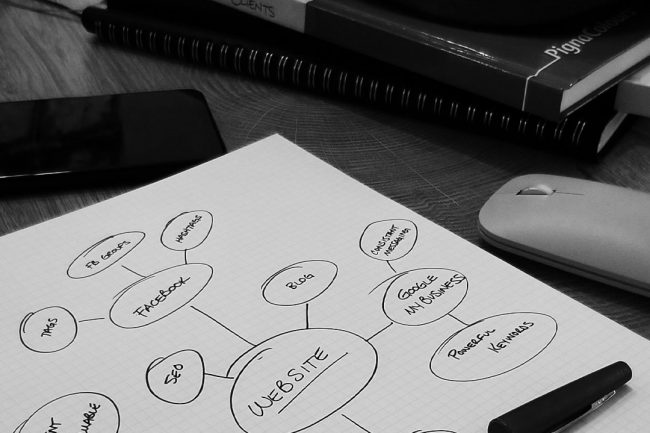 Now that Boulevard Carts has established itself in it's local market, it has recognized the importance of having a powerful digital presence. The collaboration outcome between Detroix Digital and Boulevard Carts is to build a digital presence that is impactful, stylish, modern, responsive, and to offer an efficient sales funnel to visitors searching for specific parts and accessories or for those just sinking their teeth into the lifestyle.
This live article will be updated on several occasions throughout the progress of the build. The idea is for you to have a better understanding of the time spent and what is involved in creating a digital brand experience. Now let's get to work.
Log: [5/24/21]
When beginning a job, I prefer to start with a solid foundation and draw out a mind map – think of it as a 30,000ft. view of the project. It's good to understand all of the moving parts needed to deliver a solid product. Listen, you hear it all the time and there's a lot of truth to it – Everything is connected. But! It all starts with consistent messaging and Search Engine Optimization. It's the difference between your business being found on Google, Bing, Ecosia, etc. or not.
When performing a major web development overhaul with Detroix Digital, SEO services are always included. It's a timely service, but worth it's weight in gold. If you're a business that provides a product or service…or both; making sure your messaging is consistent throughout all platforms and checking that your messaging reinforces strong keyword search terms is imperative.
I press hard on Google My Business product because Boulevard Carts is not just a new and exciting business and online users should know about it, but it replaced an old business that used to operate out of that address. It's imperative that prospecting customers know that the previous business is no longer there and BC is there to stay!
Google My Business is a powerful tool that was built so even the average Joe could claim their business, verify, modify, and create a decent Google presence with a little knowledge, creativity, and technology know-how.
Reminder: If you'd like to save yourself the time and hassle, Detroix Digital is a Google My Business Certified Specialist and readily available for your needs. (info@detroix.com)
Log: [6/21/21]
Since the last update, we've managed to lock down a color scheme, homepage layout, begin building the website, and launch the Verified Google My Business and Google Maps Listings.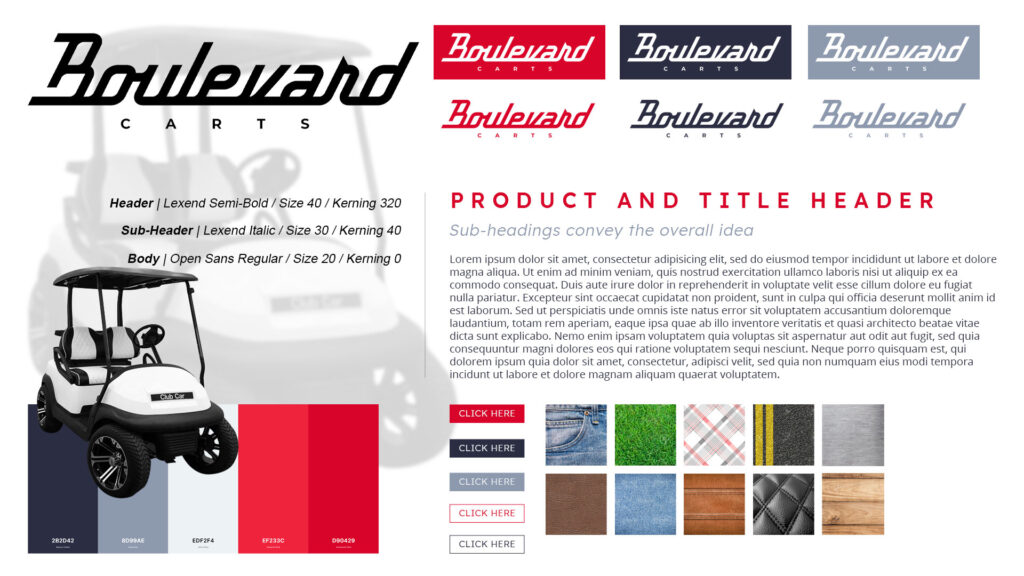 When developing your brand, it's important to stick to a look and feel because it creates a subconscious connection between you, your client, and your product. This is something that you will carry through all of your efforts online with social media, photos, graphics, videos and offline with print media business cards, flyers, posters, promotional prints, etc.
The FedEx, Burger King, and Amazon logos and fonts used on their website and advertisements are chosen intentionally to communicate a feeling. After awhile, it becomes a part of them and your brain latches onto it. Don't believe me? Who remembers when Facebook or Burger King changed their logo and font? Remember how that made you feel? This is what I'm referring to.
I took into consideration the importance of color combination choices and how certain colors make people feel inward and outward. Then choosing the right font family to communicate the brand personality accurately – right down to size and kerning. Once the foundation is set, when you input the copy and content, the website's look and feel come together very quickly. In fact, it almost begins to develop a personality of it's own. It's pretty neat.
Next step is to create a website concept layout. Typically, I use this very intuitive tool called, Figma. I like using this tool because it's all vector based, loads quick, allows you to zoom in and more importantly, zoom out for that 30,000ft. / top-down view. You can create all sorts of different things with Figma, I happen to use it for Web Dev UIX.
The idea when designing a website's layout is always to know what you want to incorporate and keep it simple for the sake of the user's sanity and the success of your sales funnel. We want to prioritize the exchange of information from top to bottom. Sometimes it's difficult because you want to show everything and you don't want to forget anything. Unfortunately, you don't want to overwhelm the user. Remember the last time you went car shopping and your sales person talked your ears off about the product and provided so many options that you became overwhelmed and couldn't decide? Same thing.
Also when designing the layout of a website, you need to keep in mind it's responsiveness to mobile devices. In the last 3 major projects I've worked – 80% of visitors come from phone/tablet (heavier on the phone). But when the client decided to purchase, they revisited the website via Desktop. Interesting huh? All these things play a big role in designing a website.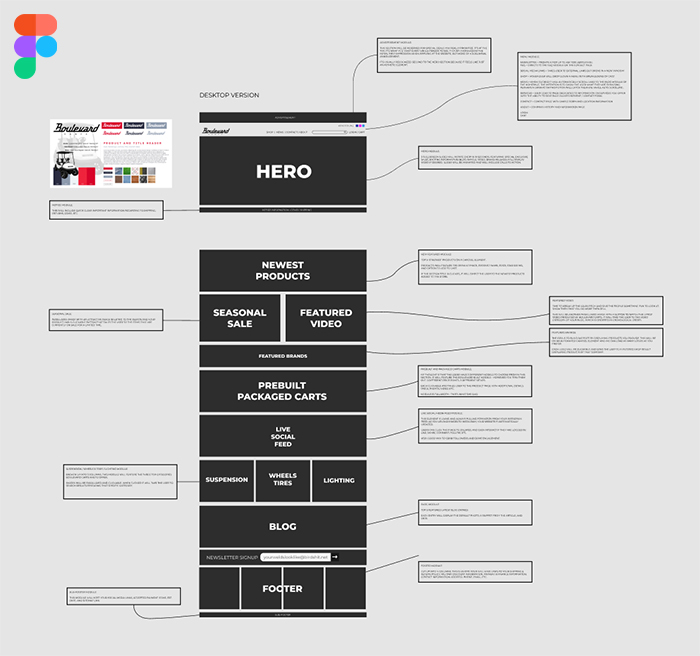 Boulevard Carts – Google My Business Status Update. The company was verified on June 1st and after the refinements had taken effect we saw a decent size up-tick in engagements, but not at the pace I was really hoping to see after a couple days. This was a bit unusual (in my opinion), because we spent some time drilling down on keywords, finding some of the best photos to lead the business profile with, and made sure all business information was consistent between Facebook, Instagram, Yelp, Yellow Pages, Yahoo, Waze, etc. In my professional opinion, the Boulevard Carts Verified Business listing is spot on. You can find it here.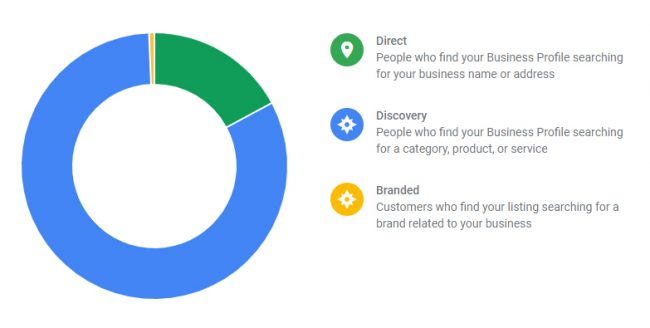 I performed a simple trial search on Google for "Boulevard Carts" to understand what was going on, which resulted in a highly ranked Google My Business page that was not setup by the owner – nor by any person for that matter. Come to find out, over time, Google AI technology will auto-create a Google My Business & Google Maps listing automatically (in an effort to improve the user experience on their platforms) by pulling information from all over the internet, your website, Facebook, Instagram, etc.

The distressing realization was that, even though we've put all this effort into verifying the business (blue shield), posting, adding engaging images, developing copy for keywords… None of that mattered. This phantom Boulevard Carts Google My Business and Google Maps location was stealing the stage! With all we've done, we were competing against ourselves and losing to a Google generated element that had merely a business name and a phone number! Crazy!
The most time consuming and frustrating parts was taking this phantom-listing down.
After numerous requests to remove the duplicate, Google AI technology was automatically rejecting the requests with no apparent reason. This is when I realized I needed to act on behalf of the business owner and get in touch with Google any way I could. I managed to find the correct avenue and explained the situation in depth, providing images and screenshots. But one thing was extremely important – the absolute termination and REMOVAL of this listing.
Biggest Concerns:
The duplicate was competing against our verified business
We were contacting old clients to leave reviews – some left reviews on the duplicate phantom listing
Ranking better than the verified page with significantly less information and content
Conflicting information (no address, incorrect hours of operation, improper branding)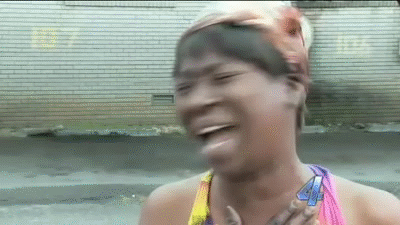 When you, as a client or someone who wants to improve Google Maps / My Business by correcting information about a business or the status of a business, you can choose to specify if the business has moved, closed temporarily, permanently, etc. Even if you choose "permanently closed", the business will rank for a duration of time. "Ain't nobody got time for that!"
It was imperative that Google remove this phantom listing 100% -I'm talking about no survivors.
Thankfully, they understood our concern and completely round-filed the listing. Immediately upon deletion of this duplicate, none of the Boulevard Carts listings were populating. After a few days the verified business listing populated correctly and our stats have exploded!
In the last 20 days, the business has now achieved over 2,000 engagements between Views, Searches, and Activities. We're even starting to receive branded traffic, which means customers who have found our listing by searching for a brand related to the business.
Views – Search Views on Google & Map Views on Google Maps
Searches
Direct -People who find your Business Profile searching for your business name or address
Discovery – People who find your Business Profile searching for a category, product, or service
Activities – Website Visits, Calls, Photo Views, Direction Requests
My next objective is to get the business to rank high when searching "michigan golf cart". Update soon.
Log: [1/2/22]
It's been some time since our previous update. We were so caught up in fine tuning the functionality and workflow of the website that we forgot to leave an update here. Not to mention, contracting COVID19 and spending a month in the hospital without my tools didn't help keep a timely turnaround time. I'm fortunate to be alive, but more appreciative of having an understanding client. We recently just went live with the website and the client is beyond satisfied. The storefront look and runs great, there are really valuable tools available for custom golf cart visitors to take advantage of, and we're now rounding our first 100 products to be listed. Very exciting.
During the last 4 months, we changed up some of the ideas, menu styles, modules, and content. The menu not only grabs your attention now, but guides you to where you want to be more efficiently. It was important to evaluate the UX, so we gathered previous customer input to receive an unbiased but targeted market opinion. (When you get down to brass tacks, we're doing this for the customer, not ourselves.) The idea is that if the user experience is as best as it can be, the better the conversion rate will be.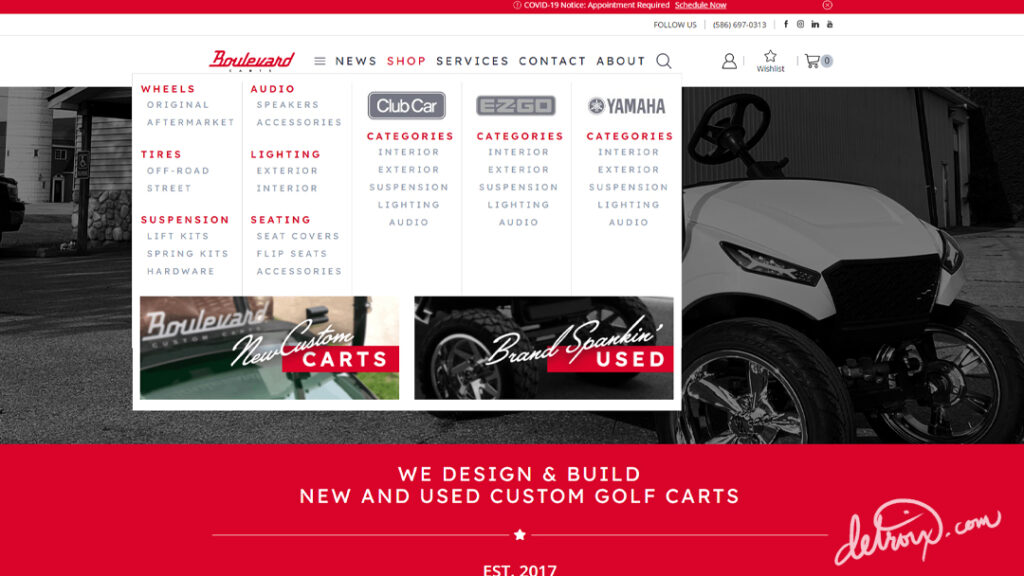 We streamlined the shopping experience by having pre-designated categories based on golf cart brand – E-Z-Go, Club Car, Yamaha – then category genre.
One of the original ideas we were going to implement was a three-tier custom golf cart builder. After some time to digest the idea, we thought it was best to revisit this in the near future once things start to heat up. In it's place we implemented New & Used Custom Golf Cart pages, which thus far has been a big success. Since launching, he's sold 3 units! You can visit the pages here (New / Used) These pages have image galleries, a tabbed table format for quick actions from financing options, contact options, or additional cart info.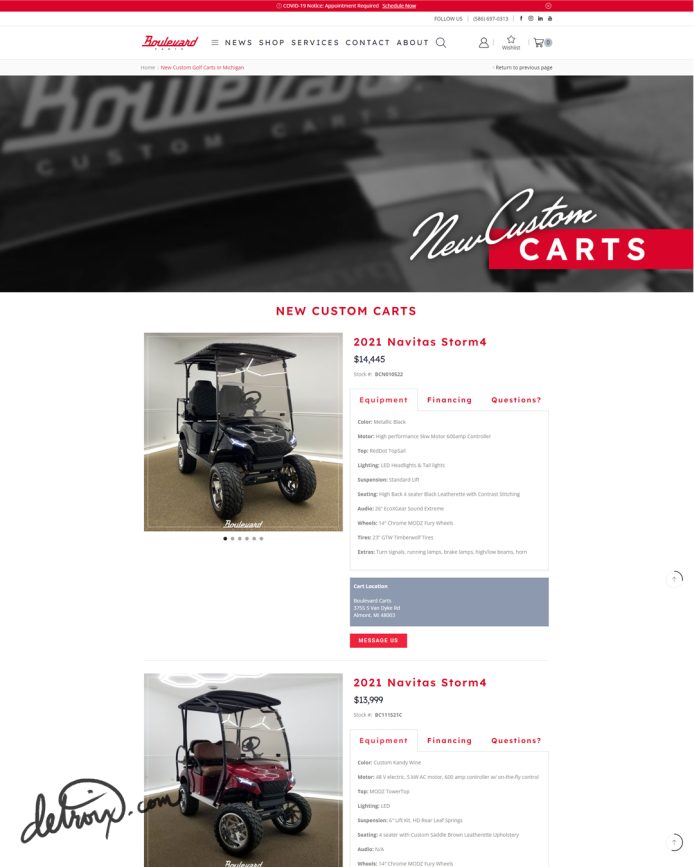 Part of the project's agreement was that 500 products were to be loaded to the website. But rather than loading all 500 immediately, we decided that loading 15-25 per week would be extremely beneficial for two reasons:
1.) Regularly adding content, such as articles, media (video & photos), and product; will be extremely beneficial because Google bots routinely scrape websites for new content. If your website is constantly evolving, it will increasingly rank your website better within search results. In turn, generating more visitors, which equals potential sales. Pretty straight forward, right?
2.) If you're regularly adding new content, it's great material to use for social media to generate engagement. In turn, again, generating more visitors… "Check out this new article", "New product now available on our website", etc.
Be sure to swing by the website and don't hesitate to let me know what you think! Check back often too, there's always new content being released! I'll be back for another update soon. http://www.boulevardcarts.com