Website URL: https://blackoutmf.com
Location: Detroit, MI USA
Project Category: Wix Website Development, Google Business, Website Performance
Blackout Motor Freight is a Michigan based LTL / FTL flatbed freight company that services America's Mid-West region. They've handed us the keys to their website with the need to to improve sales. Three elements were needed: upgrade esthetics, messaging, and sales funnel performance. The beauty of their website is that it's very straight forward. The owners want to offer an easy and simplified user experience, while providing a tasteful modern feel. Before we begin any job, we always perform a trifecta assessment. The idea is to identify the weaknesses, prioritize those areas to be addressed first.
Sales Funnel Performance
Whether a company is providing an actual product or service, it's important to ensure your sales funnel is efficient. Think of a sales funnel as a trail of breadcrumbs that lead a person to a reward – whatever you're trying to convert (lead information, a sale, an appointment, etc.). In todays standards, with the limited attention span of users, it's best not to leave too long of a trail. I highly recommend being short, clear, and direct.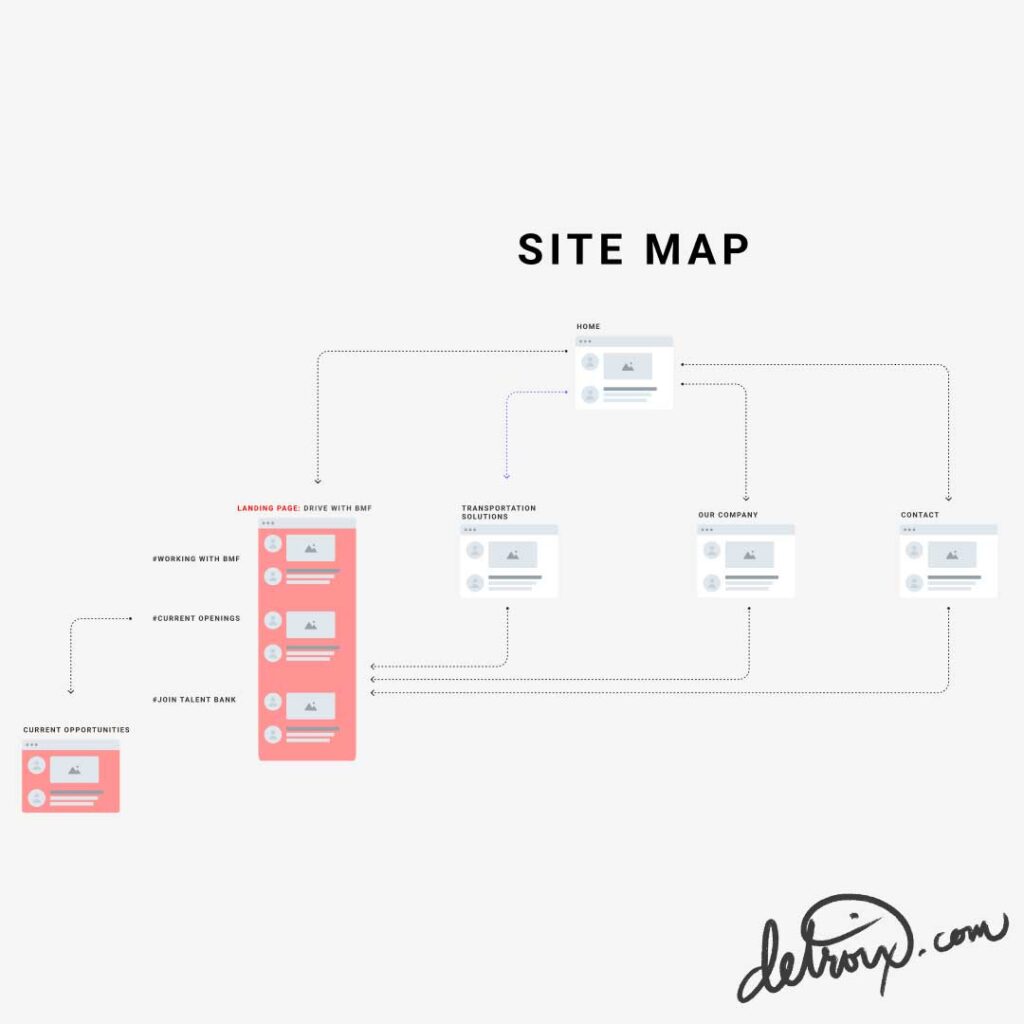 You'll notice in the image above that all roads lead to the "Career Opportunities" page. Blackout Motor Freight's objective is to generate leads and grow their fleet. We kept their funnel very lean so that users don't get off course and conversions aren't lost.
Where does your conversion opportunity start?
Most prospecting clients don't consider this, but the first question to ask yourself is, "How do most people find my service?". If you said 'Google' or an alternative search engine, you're correct. Your company's sales funnel really begins at the search result page. The appearance of your company's information and description should be written in such a way that it provokes a connection and engagement.
So what does that look like?

In this example above, the headline and meta description area could be improved. Also, we find that the company doesn't have an active Google Business presence – Having a presence with Google Businesses will offer significantly improved ranking and a combined presence on Google Maps. Which raises the question – How does the competition look? Here is a quick analysis…
In South Eastern Michigan, you can see that the online competition isn't that that bad considering there are thousands of active freight haulers competing against each other each day. The company needs to register a Google Business account and bring itself to the surface so prospects searching for a logistic company will be able to easily locate them.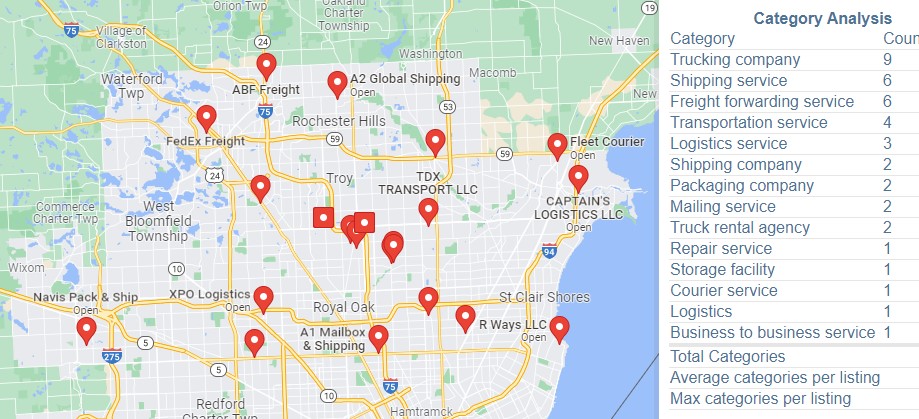 A sales funnel consists of these four elements: Realization, Interest, Selection, Response.
Realization »
When the visitor is in the stage of realization they become aware of a product or service that addresses their needs. Since we the company isn't planning on advertising at the moment and word of mouth isn't something we can manage; we focus on the third discovery method – Research / Internet searching.
Interest »
When your prospecting client realizes you have a product or service that benefits them, like most others, they begin to evaluating what's available to them. Contrasting offerings from a variety of competing companies. I believe this step occurs within search results or when visiting your website. This is where having a Google Business presence is powerful. Providing the prospect with a strong case for the quality of your product or service is important at this step.
Since this step begins, my priority is to maximize the presentation of Blackout Motor Freight's prospect's first impression.
Selection »
Getting a prospect to make a decision comes down to supplying them with all the information they're looking for, answering the questions preventing them from taking action, allaying any fears they have and convincing them the action they're about to take will result in satisfaction. This is the level that you need to demonstrate your authority in your field confirming that you're the best choice available. You can support this authority by providing social proof in the form of customer reviews, endorsements or compelling statistics.
Response »
The last component of the sales funnel is response. This is where the potential prospect completes the process by becoming an active customer. As an added stage to the action component, it's possible to convert a one time customer into a repeat customer. By providing exactly what the customer is looking for, and more, you can keep the customer coming back and possibly creating more awareness that attracts new prospects into your sales funnel.
Targeted Messaging
Your targeted messaging goes hand-in-hand with your Sales Funnel. There are two sub-factors that contribute towards the whole of your business's "Targeted Messaging". One, the overall idea and copy of your message. In general, how do you present yourself to your visitors? Who are they and how do you effectively communicate to them? Two, what are your targeted keywords that will help connect your business with your client, based on their search query? When developing a list of keywords or strings of keywords, you need to think like your clients would. "What would a typical visitor write in the Google search bar to find my business?"
There is a great amount of effort spent in researching and developing these elements, combining them so they play nicely with each other and are palatable to both Google and your visitors. Detroix Digital handles this entire service, usually as part of a Web Development Package, but also available as a one-off service if need be.
Once the copy, keywords, and keyword phrases have been developed; we incorporate them into all of your social media platforms. If your messaging is consistent throughout the different platforms, this creates a fortified digital presence and greatly improves your business searchability.
Esthetics
The third element of the trifecta is your website's esthetics – This is the look and feel that your website radiates and how your business brand is received by your visitor. Blackout and myself reviewed a number of optional color schemes to best represent their company. We ultimately decided on a dark layout filled with shades of grey and a red accent for pop. It was important that we also communicated to a wide range of age groups, both genders, and ethnicities; so we made sure to include imagery that was representative of this to ensure no person felt under represented.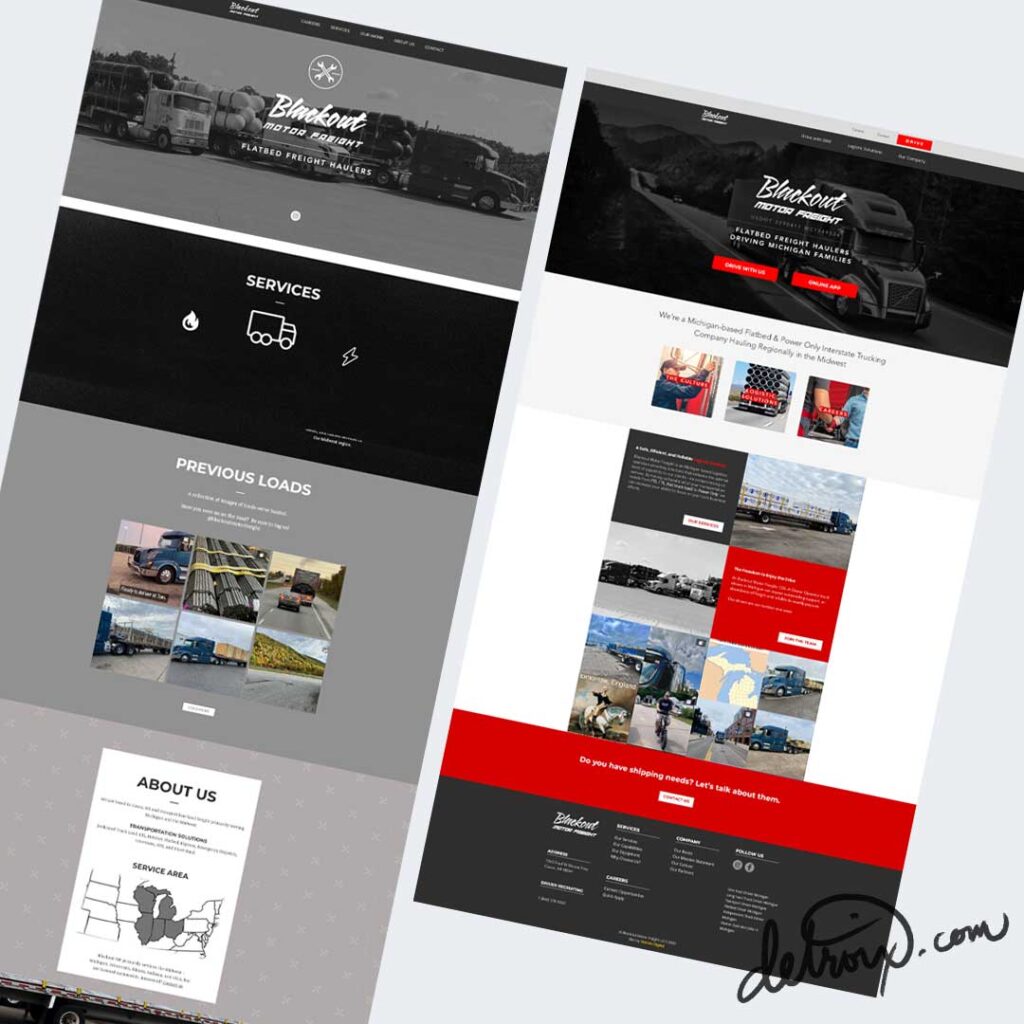 An equally important factor to consider is UI/UX, balance of space, and balance of color. You wouldn't think this matters, but if you take a step back and imagine visiting a website from your smartphone and all of the information is crammed together, there are colors everywhere, and navigating isn't quite clear. This all plays a role in developing a website and most clients don't consider this strategic planning and designing. If you visit the Blackout Motor Freight website (click here) on your Desktop/Laptop and Smartphone, you'll notice the flow is different. That's because user experience dramatically different from one device to the other. Because users are viewing websites from a multitude of devices, a website needs to be responsive, and it's important to understand that it's almost like building multiple websites.
As a result of our hard work, we've tripled our traffic when comparing (Jan.1 – Aug.1 2022) to (Jan.1 – Aug.1 2023).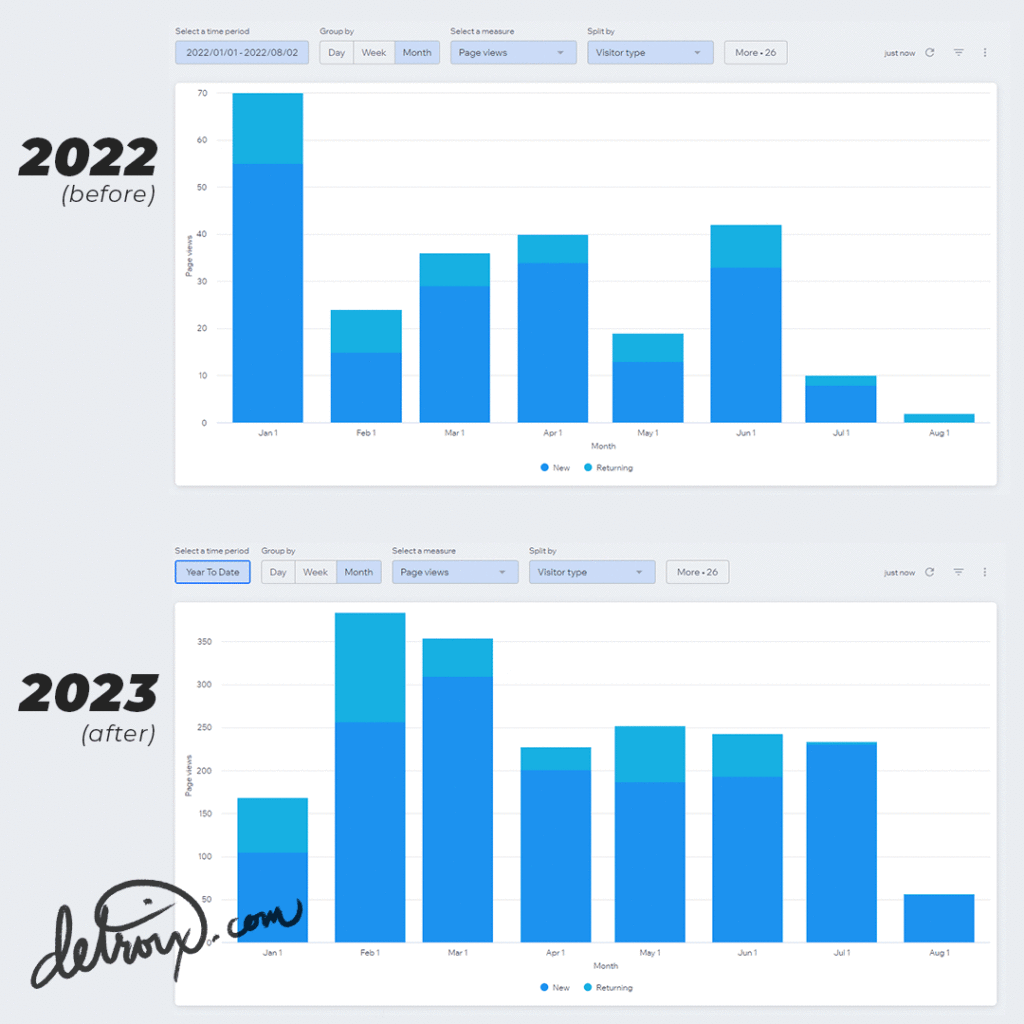 Now when one searches for Blackout Motor Freight or other various targeted search terms, this is the search result that will appear. (see below) You'll notice right away there is an improved presence and radiates a level of legitimacy. This ultimately helps it's website's CTR (click-thru rate).